---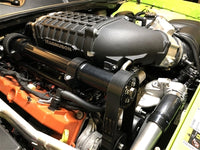 ***If you would like to have this product professionally installed or would like to have your car tuned by us please call 7323497800 before ordering***
***THIS KIT DOES NOT INCLUDE CALIBRATION***
Unleash the true potential of your Hellcat with the Magnuson Vengeance TVS2650Supercharger System!

The Vengeance TVS2650 for the 2015+ Dodge Hellcat 6.2L V8. This OE replacement supercharger system is designed to deliver maximum performance while retaining factory-like drivability and reliability!
Inside of the supercharger manifold, the newest charge air cooler is 10% larger than the OE keeping your Intake Air Temperatures colder than competitors and provides consistent and repeatable performance! We have also retained the OE electronic by-pass valve to ensure the ECU remains in complete control of the desired boost levels.
One of the most impressive aspects of this latest generation Magnuson supercharger system is that it can outflow the competition even though their supercharger displacement is significantly larger. In addition, it requires less horse power to spin the Vengeance TVS 2650 and its discharge temperatures are significantly lower allowing the supercharger to make over 1000 HP with the stock fuel system and 1200-1400+ HP when supported with upgraded fuel system and powertrain modifications!

Hellcat Specifications

TVS 2650 hybrid-roots supercharger
100% complete bolt-on system
No hood modifications required
Bazooka-Tube jackshaft system
High flow intercooler system
Massive 1" (-16AN) intercooler coolant fittings
105mm throttle body inlet
Anodized aluminum fuel rails support over 1500HP
Compatible with factory fuel injectors
Interchangeable rear cog belt/pulleys for up to 27% overdrive
Accepts stock electronic bypass valve and stock throttle body
High thermal efficiency
High helix four-lobe rotors

Recommended components for 1000+ HP

1000+ cc/min injectors
Upgraded fuel pumps/lines
105mm throttle body
Magnuson Crank Pulley Pin Kit (part# 31-26-61-102) for 2016 and earlier crankshafts
Magnuson 27% overdrive cog pulley set
Product Code: 01-26-62-502-BL
Our mission is to cater to the needs of the true auto enthusiast who has a desire for optimum performance without sacrificing reliability. Our attention to detail has resulted in a customer list of well over one thousand. We offer a full portfolio of products and services that range from simple bolt on accessories to complete engine builds. Our services include personalized dynamometer tuning and dynamometer rentals, engine building, transportation services, and events.
 The question that many prospective customers have when considering Tune Time is what makes us different from any other performance shop? One word can describe it: trust. Our personalized, consultative approach that we take with each customer regardless of what their budget is instills a trust factor that is unsurpassed in our industry. We invite any of our potential customers to set up an appointment to visit our facilities and discuss their desired results. With a combined eighty five years of automotive experience amongst our staff we're certain that you will feel confident in your decision to work with us.
 Tune Time vehicles have been featured in multiple automotive magazines including Super Chevy, GM High Tech Performance and Import Tuner. Our GALLERY section also displays the variety of vehicles that we've worked on over the years ranging from 1950's muscle cars to brand new imports with dealer tags still on them. We invite you to browse through our site. If there is anything that you cannot find please feel free to email or call us. I thank you for taking the time to consider Tune Time and look forward to adding you to our list of satisfied customers.
Sincerely,
Matt Hauffe
Owner of Tune Time Performance