---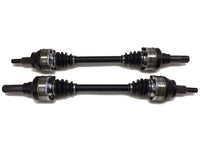 Now available from The Driveshaft Shop, the new 1400HP Hellcat/SRT8 axles! If you want the very best and strongest axle available for this platform. this is it second to none. This axle is designed for a real race car that just happens to be street driven. The inner and outer CV we have developed use a modified Porsche style 108mm CV that we have put custom made fully REM polished internals and our torsional 300M chromoly axle bars that have been used in every record breaking IRS car out today. Inner and outer CV's are our new 2-piece billet flanges with a 300M spline section to fit into the differential and wheel hubs. This set of axles has only one problem, they do not come with the ABS / Tone rings on them, but are machined for you to easily transfer over the rings from your stock axles. They are a direct bolt-in and there are no modifications needed for installation. 
You can pair this gear upgrade to any of out stage kits that we offer.
***PRICING INCLUDES INSTALLATION CALL (732) 349-7800 TO SCHEDULE***
Our mission is to cater to the needs of the true auto enthusiast who has a desire for optimum performance without sacrificing reliability. Our attention to detail has resulted in a customer list of well over one thousand. We offer a full portfolio of products and services that range from simple bolt on accessories to complete engine builds. Our services include personalized dynamometer tuning and dynamometer rentals, engine building, transportation services, and events.
 The question that many prospective customers have when considering Tune Time is what makes us different from any other performance shop? One word can describe it: trust. Our personalized, consultative approach that we take with each customer regardless of what their budget is instills a trust factor that is unsurpassed in our industry. We invite any of our potential customers to set up an appointment to visit our facilities and discuss their desired results. With a combined eighty five years of automotive experience amongst our staff we're certain that you will feel confident in your decision to work with us.
 Tune Time vehicles have been featured in multiple automotive magazines including Super Chevy, GM High Tech Performance and Import Tuner. Our GALLERY section also displays the variety of vehicles that we've worked on over the years ranging from 1950's muscle cars to brand new imports with dealer tags still on them. We invite you to browse through our site. If there is anything that you cannot find please feel free to email or call us. I thank you for taking the time to consider Tune Time and look forward to adding you to our list of satisfied customers.
Sincerely,
Matt Hauffe
Owner of Tune Time Performance