---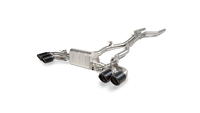 weight:  -10.2 kg
Constructed from high-grade lightweight titanium alloys, the Evolution Line (Titanium) exhaust system has been perfectly tuned to deliver the very best aural experience in all driving modes. Through extensive testing and development, the Akrapovič sound engineers have coaxed a deep, sporty, higher-frequency V8 sound from the car's turbo engine, more akin to that of a muscle car, while keeping it smooth and eliminating any drone that might hamper the enjoyment. The full titanium exhaust system is finished with two sets of carbon-fibre / titanium tailpipes coming from a central muffler layout featuring two valves, one located on either side of the muffler. The housings are cast in-house in the Akrapovič foundry, and there is a cast collector on the link pipe, where gases from both sides of the engine mix, all designed to create a perfect sound. This plug-and-play exhaust system can be further regulated with the addition of the Akrapovič Sound Kit to control the valves in the exhaust and switch between the sound modes. Further visual enhancements can be achieved with the addition of the optional hand-made carbon-fibre diffuser and mirror caps, available in matte and glossy finishes to provide an eye-catching accompaniment to match the Evolution Line (Titanium).
Fittment notice:This system does not fit on vehicles equipped with Otto particulate filter (OPF).
THIS PRODUCT DOES NOT MEET EMISSION COMPLIANCE REQUIREMENTS FOR STREET OR HIGHWAY USE.
For More Information Click Here
Our mission is to cater to the needs of the true auto enthusiast who has a desire for optimum performance without sacrificing reliability. Our attention to detail has resulted in a customer list of well over one thousand. We offer a full portfolio of products and services that range from simple bolt on accessories to complete engine builds. Our services include personalized dynamometer tuning and dynamometer rentals, engine building, transportation services, and events.
 The question that many prospective customers have when considering Tune Time is what makes us different from any other performance shop? One word can describe it: trust. Our personalized, consultative approach that we take with each customer regardless of what their budget is instills a trust factor that is unsurpassed in our industry. We invite any of our potential customers to set up an appointment to visit our facilities and discuss their desired results. With a combined eighty five years of automotive experience amongst our staff we're certain that you will feel confident in your decision to work with us.
 Tune Time vehicles have been featured in multiple automotive magazines including Super Chevy, GM High Tech Performance and Import Tuner. Our GALLERY section also displays the variety of vehicles that we've worked on over the years ranging from 1950's muscle cars to brand new imports with dealer tags still on them. We invite you to browse through our site. If there is anything that you cannot find please feel free to email or call us. I thank you for taking the time to consider Tune Time and look forward to adding you to our list of satisfied customers.
Sincerely,
Matt Hauffe
Owner of Tune Time Performance