---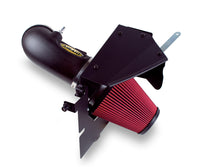 The AIRAID Cold Air Dam (CAD) Air Intake is engineered to give your engine larger amounts of cooler air to produce more horsepower and torque. The intake system retains the original location of the air filter but delivers a big boost with the addition of a huge open-element air inlet protected by Cold Air Dam panels that help to provide a steady, free-flowing supply of cooler outside air into your engine. The panels mount in the factory air box location and utilize any factory cold air inlet ducts that are present, while adding additional cold air passages to the filter. The panels also keep the filter isolated from the hot engine compartment air by sealing to the underside of the hood via blade-style weather stripping. This CAD system utilizes a replacement low-restriction intake tube. The 360-degree conical AIRAID premium air filter is washable and reusable, less restrictive than traditional paper, and assures superior filtration. The AIRAID Cold Air Dam Air Intake is easy to install with common hand tools. Some AIRAID air intakes are not legal for sale or use in California and other states adopting California emission standards, while others are 50 state legal. 
Increases horsepower and torque
Replaces stock air box, air filter and intake tubing
Cold Air Dam panels block out hot engine bay air
Easy to install using commonly available tools
High airflow premium air filter
Washable and reusable air filter media
No Hassle Lifetime Warranty
Product Number: air250-253
*NOT CARB LEGAL*
Our mission is to cater to the needs of the true auto enthusiast who has a desire for optimum performance without sacrificing reliability. Our attention to detail has resulted in a customer list of well over one thousand. We offer a full portfolio of products and services that range from simple bolt on accessories to complete engine builds. Our services include personalized dynamometer tuning and dynamometer rentals, engine building, transportation services, and events.
 The question that many prospective customers have when considering Tune Time is what makes us different from any other performance shop? One word can describe it: trust. Our personalized, consultative approach that we take with each customer regardless of what their budget is instills a trust factor that is unsurpassed in our industry. We invite any of our potential customers to set up an appointment to visit our facilities and discuss their desired results. With a combined eighty five years of automotive experience amongst our staff we're certain that you will feel confident in your decision to work with us.
 Tune Time vehicles have been featured in multiple automotive magazines including Super Chevy, GM High Tech Performance and Import Tuner. Our GALLERY section also displays the variety of vehicles that we've worked on over the years ranging from 1950's muscle cars to brand new imports with dealer tags still on them. We invite you to browse through our site. If there is anything that you cannot find please feel free to email or call us. I thank you for taking the time to consider Tune Time and look forward to adding you to our list of satisfied customers.
Sincerely,
Matt Hauffe
Owner of Tune Time Performance