---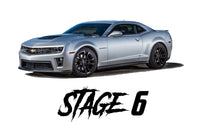 This Package Includes the Following and Should Have You Achieving Around 808 HP:
Roto Fab Cold Air Induction                                                                       
2.55" Upper Pullley
10 Bolt Supercharger Hub
Solid Isolator
ATI LSA Overdrive Balancer
9.1" Overdrive Ring
Crank Bolt
Idler Relocation Kit
Appropriate serpentine belt
Ported Supercharger Snout- 102mm
Nick Williams 102mm DBW Throttle body
Stage II CNC LSA Cylinder Heads
GM MLS Head Gaskets
ARP Head Studs
High Performance Lifters
GM Lifter Trays
Custom Comp Camshaft
Dual Spring Kit w/TI Retainers
ARP Cam Bolts
3 Bolt Timing Gear
Hardened Pushrods
Trunion Upgrade
Katech C5R Timing Chain
Melling High Volume Oil Pump
All Gaskets & Seals
Billet Catch Can with AN Lines/Fittings
Valve Cover Breather
160* Thermostat
Heat Exchanger 
High Capacity HX Tank
Alky Control Dual Nozzle Methanol Injection System
M1 Methanol
High Temperature Protective Heat Sleeves
NGK TR7IX Spark Plugs
GM MLS Exhaust Manifold Gaskets
High Flow LSA Fuel Injectors
Complete/Professional Installation
Custom ECU Calibration
Color Print out displaying final results
***Automatic transmission equipped vehicles may require aftermarket stall converter and/or upgraded transmission.   Please contact a Tune Time representative to discuss your specific goals***
Call (732)349-7800 for pricing!
Our mission is to cater to the needs of the true auto enthusiast who has a desire for optimum performance without sacrificing reliability. Our attention to detail has resulted in a customer list of well over one thousand. We offer a full portfolio of products and services that range from simple bolt on accessories to complete engine builds. Our services include personalized dynamometer tuning and dynamometer rentals, engine building, transportation services, and events.
 The question that many prospective customers have when considering Tune Time is what makes us different from any other performance shop? One word can describe it: trust. Our personalized, consultative approach that we take with each customer regardless of what their budget is instills a trust factor that is unsurpassed in our industry. We invite any of our potential customers to set up an appointment to visit our facilities and discuss their desired results. With a combined eighty five years of automotive experience amongst our staff we're certain that you will feel confident in your decision to work with us.
 Tune Time vehicles have been featured in multiple automotive magazines including Super Chevy, GM High Tech Performance and Import Tuner. Our GALLERY section also displays the variety of vehicles that we've worked on over the years ranging from 1950's muscle cars to brand new imports with dealer tags still on them. We invite you to browse through our site. If there is anything that you cannot find please feel free to email or call us. I thank you for taking the time to consider Tune Time and look forward to adding you to our list of satisfied customers.
Sincerely,
Matt Hauffe
Owner of Tune Time Performance